Driver Recruitment and Retention Agencies Release Spring 2023 Truck Driver Survey Results

By: Conversion Interactive Agency
Posted: Jun 13, 2023
Categories: Blog
Conversion Interactive Agency, the leading truck driver recruitment advertising agency, and People. Data. Analytics (PDA), an industry leader in analyzing employee retention and feedback, have jointly released their Spring 2023 Driver Survey, focusing on crucial topics of interest to professional truck drivers in today's market.
This survey serves as a vital tool for understanding the issues that hold significance for truck drivers, covering various topics, including changes in miles driven due to fluctuating freight volumes, relevant job descriptions, sign-on bonuses, home time, drivers' opinion on hiring events, and more.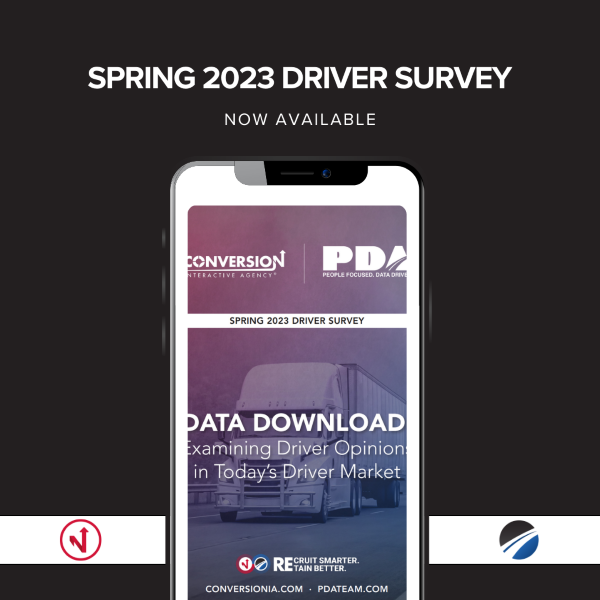 The Spring 2023 Driver Survey revealed less than half of the surveyed drivers are not actively seeking new driving jobs for the fourth consecutive survey. However, the percentage of drivers currently looking for a job has decreased from 40% in the Fall 2022 survey to 33.8%, marking the lowest rate since Conversion and PDA began asking this question in the Spring of 2021.
Also notable, of the drivers surveyed, over 30% prefer hearing back from a carrier within 12 hours of submitting a short form or application, while more than half prefer a response within 24 hours. Responding to applicants quickly can convert more hires on average, especially for carriers who use technology like Lead Assist-Virtual Recruiter to instantly connect with qualified drivers who have submitted short forms.
"The results of the Spring 2023 Driver Survey demonstrate a continued trend we've seen where a majority of drivers are not actively seeking new driving jobs," said Kelley Walkup, president and CEO of Conversion Interactive Agency. "This builds the case for carriers to invest even more in their employer brand now, so when drivers are actively making decisions related to driving for a new carrier, brand preference has already been established."
On the retention front, the survey indicates there is some uncertainty among drivers and their ability to earn the pay they need in today's freight market. Nearly 45% of truck drivers expressed uncertainty or lack of confidence in their carrier's ability to provide sufficient miles for them to earn the pay they need. Proactive communication is vital in these situations, as identifying drivers who are struggling to log consistent miles and intervening promptly can significantly boost driver retention rates. It's worth noting that 71% of job-seeking drivers cite predictable pay as a reason for their job search, indicating that freight availability directly affects drivers' earnings. When recruiting new drivers, carriers should highlight their steady freight and consistent miles in their messaging and job descriptions.
"This recent survey underscores the challenges facing drivers today, with half experiencing a drop in pay over the past six months," said Scott Dismuke, VP of Operations at PDA. "As the survey shows, predictable pay is a top priority for drivers seeking new employment opportunities. The freight recession has also had a significant impact on driver miles, with half of the surveyed drivers reporting decreased or fluctuating miles since last fall. This slowdown can be particularly challenging for drivers who entered the industry during the peak of COVID-19 freight, as they have only ever known a steady freight market. Proactive communication is essential to support all drivers through any economic situation."

The survey also delved into drivers' preferences regarding attending hiring events when seeking new job opportunities. A significant majority of drivers, nearly 70%, expressed a preference for attending both in-person and virtual events. This finding suggests that carriers can derive benefits from virtual events, which demand minimal investment while delivering timely and qualified leads. It is noteworthy that events remain one of the most effective methods for attracting drivers, yet many carriers are not fully capitalizing on the latest technologies and offerings available to them.
Walkup commented on this finding, stating, "Events are one of the most effective ways to attract drivers, and yet many fleets are still underutilizing them as a recruitment marketing strategy. In today's driver market, it's critical for carriers to use every tool available to attract top talent, including in-person and virtual events."
As we move into the second half of 2023, Dismuke and Walkup both agree that carriers should be focusing on recruiting smarter and retaining better. To achieve this, carriers should also stay ahead of the curve by implementing driver-centric policies, tools, and addressing driver feedback to keep them satisfied in an ever-changing economy. Prioritizing driver retention and recruitment creates a stable and productive workforce and enhances overall efficiency and profitability, which is essential in the highly competitive trucking industry.
To access the full survey report, click here.