Lead Assist Introduces Virtual Recruiter for Instant Driver Connection

By: Conversion Interactive Agency
Posted: Jul 6, 2023
Categories: Blog
Conversion Interactive Agency is excited to announce the latest upgrade to its Lead Assist platform, featuring a seamlessly integrated virtual recruiter solution, that enables recruiting teams to effectively connect, convert, and nurture driver leads.
The latest enhancement to the platform introduces a powerful feature that enables recruiting teams to instantly connect with drivers, transforming the hiring process. By leveraging Lead Assist-Virtual Recruiter, recruiters gain a competitive edge by engaging with potential drivers before the competition, streamlining the hiring process and boosting efficiency.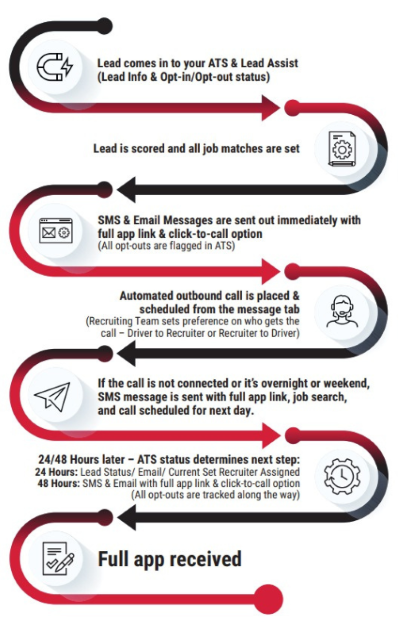 Furthermore, carriers using Lead Assist can expect an improved conversion rate from short form to full application by 20% to 40% on average, leading to more hires faster. The upgraded platform empowers teams to prioritize critical moments in the hiring process and achieve remarkable results.
"Lead Assist-Virtual Recruiter revolutionizes the way recruiting teams connect with drivers," said Kelley Walkup, president and CEO of Conversion Interactive Agency. "Our primary goal is to empower our clients to optimize their workflow, and these upgrades were designed with that in mind. Carriers can now seamlessly engage with potential drivers instantly when the qualified lead comes in, resulting in more conversions and ultimately more hires."
Key features of the overall Lead Assist platform include being the first to connect with potential drivers ahead of competitors, using innovative technology to nurture leads, extracting pertinent information from driver comments on social media posts or ads, providing personalized responses under the brand, streamlining the recruiting process, integrating lead information with the carrier's Applicant Tracking System (ATS), dispatching immediate SMS and email messages containing full application links and click-to-call options, and implementing intelligent follow-up based on ATS status.
"Lead Assist-Virtual Recruiter is a testament to our commitment to innovation and excellence. We understand the competitive nature of the driver recruitment industry, which is why we've developed a tool that enables recruiters to proactively engage with drivers, saving time and resources. Our clients can now connect with qualified candidates quickly and efficiently, streamlining their hiring process," emphasized Walkup.