Conversion Interactive Agency Receives Women's Business Enterprise National Council Certification

By: Conversion Interactive Agency
Posted: Mar 21, 2023
Conversion Interactive Agency, an industry leader in the driver recruiting space, has announced that it has recently been certified by the Women's Business Enterprise National Council (WBENC). This certification recognizes the agency as a women-owned business and offers new opportunities for it to collaborate with agencies, corporations and other organizations that value diversity and inclusion in their supply chains.
The WBENC is the largest third-party certifier of businesses owned, operated, and controlled by women in the United States. Its mission is to promote and support the growth and success of women-owned businesses through access to education, training, networking opportunities, and other resources. The certification process is rigorous and includes a thorough review of a company's ownership, management, and operations.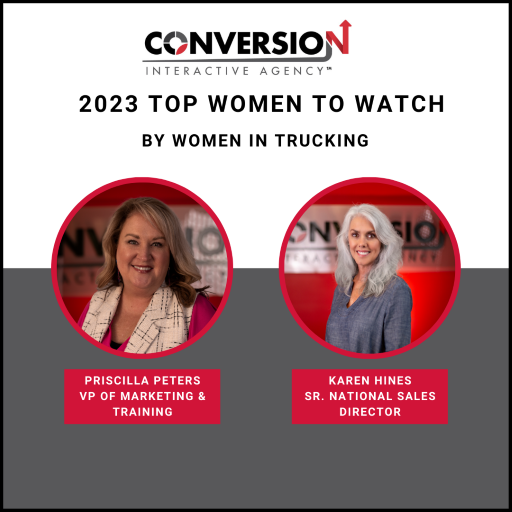 "We are delighted to have received this certification from the WBENC," said Kelley Walkup, president and CEO of Conversion Interactive Agency. "It is a testament to our commitment to excellence, innovation, and diversity. We believe that our clients benefit from the unique perspective and experience that a women-owned business can bring to the table, and we look forward to working with more organizations that share our values."
This recognition highlights the agency's steadfast commitment to promoting diversity, equity, and inclusion in its operations, differentiating it from competitors in the transportation industry. As a WBENC - Certified business, Conversion Interactive Agency will have access to valuable educational and training resources, as well as networking opportunities, which will enable the agency to continue to thrive.
With the WBENC certification, Conversion joins a network of over 16,000 certified women-owned businesses across the country. The certification is recognized by hundreds of major corporations and government agencies, including many of the Fortune 500 companies.
"We are proud to be part of the WBENC community, and we are excited about the new opportunities this will bring," said Walkup. "We remain committed to delivering the highest quality services to our clients, and we are confident that this recognition will help us achieve even greater success in the future."