Driver Recruiting and Retention Agencies Release Q3 2023 Data Download

By: Conversion interactive Agency
Posted: Nov 1, 2023
Categories: Blog
Conversion Interactive Agency and People. Data. Analytics. (PDA), two leading companies in the driver recruitment and retention space, have released their Q3 2023 Driver Recruiting & Retention Data Download Report. Throughout the quarter, these agencies collected and analyzed data to provide an extensive overview of trends and valuable insights, enabling carriers to recruit smarter and retain better.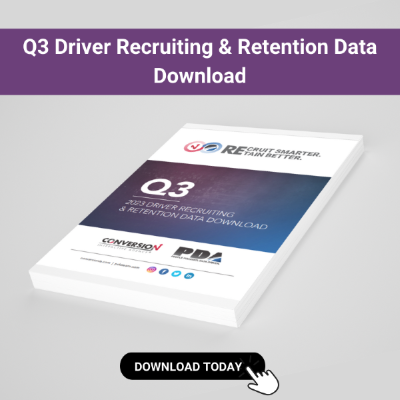 "Technology and data are playing a critical role in how carriers are recruiting today," said Kelley Walkup, CEO and president of Conversion Interactive Agency. "The report underscores that carriers who are using the power of advanced AI automation and those who invest in their employer brand are rebuilding their driver recruiting pipeline more efficiently."
In light of the data revealed in the Q3 2023 report, the implementation of awareness campaigns, in conjunction with a robust search engine marketing strategy is proving to drive the results carriers need to meet their hiring goals. Notably, carriers are doing more with less and still converting more leads to full applications by employing technology like Lead Assist, putting AI automation to work. The data also underlines the significance of video assets in recruitment advertising campaigns, showcasing their power in strengthening employer brands, driving valuable driver leads, and maintaining a consistent and engaging online narrative for both current and potential drivers.
"The good news is cost-savings are available for carriers who invest in the right technology and the right assets to build their employer brands," added Walkup.
The freight recession of 2023 continues to cast a shadow on the industry, significantly influencing driver recruitment and retention efforts. While some glimmers of hope appear in the Q3 data concerning recruitment and retention, it also unveils heightened driver concerns, with equipment issues holding their place at the forefront for the third consecutive quarter. The persistence of this issue is evident, with a nearly 3% increase from the previous quarter.
The data includes a 2% decrease in overall operational issues compared to Q2, yet the primary sources of driver frustration remained consistent: communication and planner-related challenges. Notably, 48% of drivers reported communication issues with their driver manager, highlighted by slow or no responses, while 21% expressed concerns regarding nights/weekend dispatch. "It's imperative not to let driver communication go unanswered. Clear, concise communication and ensuring drivers are part of the planning process not only alleviate frustration but also play a crucial role in retaining their loyalty," said Scott Dismuke, VP of Operations at PDA. "Moreover, it's evident that some drivers may not fully grasp that the freight recession is an industry-wide challenge, not confined to any single carrier. Proactive communication about the economic challenges and the carrier's commitment to keeping them on the road fosters understanding and appreciation among drivers."
Compensation concerns, though showing a slight decrease from the second quarter, continue to be a point of contention among drivers. Over 50% of drivers reporting compensation issues in Q3 identified a lack of miles as their primary concern. Remarkably, 66% of these drivers pinpointed "loads not available" and "inconsistent miles" as the primary factors contributing to their compensation woes.
"Effectively communicating your driver pay package, how you pay drivers, and their earning opportunities is crucial to success in driver retention. The insights from Q3 emphasize the vital role these elements play in not only mitigating driver frustration but also in elevating the overall satisfaction and performance of our teams," added Dismuke.
Walkup and Dismuke maintain their belief that through the strategic utilization of state-of-the-art technology and the acquisition of actionable insights from drivers, fleets can boldly confront challenges and enhance their recruitment and retention strategies.
To access the full report, click here.