The First Full Day of R&R 2023 Was a Success!

By: Conversion Interactive Agency
Posted: Feb 16, 2023
Categories: Blog
Today marks the first full day of our 20th Annual Recruitment & Retention Conference! Last night, we welcomed attendees at our Opening Reception, and now we're ready for an incredible day full of informative speakers, breakout sessions, and networking opportunities - plus a lot of fun along the way.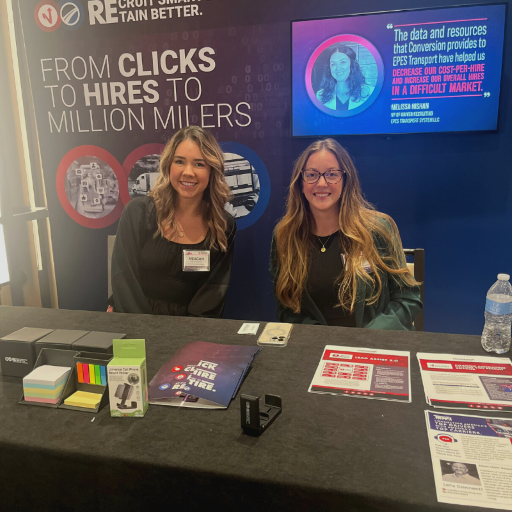 Ryan Estis, National Speaker and Workforce Expert, kicked off the first full day of sessions to share the latest innovative tactics for improving engagement with drivers. Through his insights into current workforce trends that influence driver retention rates, attendees learned how trust-building practices create long-term success in winning against high turnover battles.
In our second General Session of the day, attendees heard from Bob Costello, Chief Economist & Senior Vice President of International Trade Policy and Cross-Border Operations for the American Trucking Associations. Costello provided attendees with insight into how the current economy and industry trends have influenced driver recruitment and gained essential data points, key takeaways from emerging trucking patterns, as well as watchful indicators for the future of recruiting.
Those in attendance also had the opportunity to hear from our very own Vice President of Marketing and Training, Priscilla Peters. In this session, attendees explored how far we've come in recruiting and retention over the last 20 years-- as well as what changes may lie ahead for the future of our industry.
Conference-goers were exposed to a wealth of expertise in their breakout sessions, from exploring technology that drives leads and understanding market trends to leveraging social media for higher engagement. They delved into relevant topics such as driver pay data and obtained actionable advice on how to optimize their strategies in 2023.
As our first full day comes to a close, we are gearing up for an evening of good food, good company, and good entertainment at our Thursday night event at The Bell Tower. We can't wait to celebrate 20 years of fun at R&R and with all those in attendance.
After a successful first two days, we are excited for the events we have planned to close out this year's conference tomorrow. Be sure to continue to follow along with all the conference action on our social media channels and join in the fun by using the hashtag #RRConf2023.