5 Driver Recruiting Tips
By: Corin Burke, Digital Media Strategist, Conversion Interactive Agency
Posted: Mar 30, 2022
Categories: Data
We all remember the Great Toilet Paper Recession of 2020, and we have all heard that there is a "Driver Shortage", but do we know why those are synonymous? It is because 80% of United States communities rely exclusively on truck drivers to deliver goods. Therefore, carriers need to have a robust truck driver recruiting strategy to keep their fleets full.
At Conversion Interactive Agency, we believe in learning from data and going straight to the source, which is why we maintain close relationships with our carriers, industry experts, and most importantly, truck drivers! After long discussions with drivers, industry professionals, and after reviewing our Q4 data, we have found the following five driver recruiting tips were all consistently mentioned across the board.
1. MAINTAIN TRANSPARENCY FROM THE FIRST CALL
When listening to drivers speak on a driver panel at our 2021 Recruiting and Retention Conference, all of the drivers agreed that having a transparent recruiter who is open and honest about the job duties, expected pay, miles, and home time is what helps fuel their decision to join a new carrier.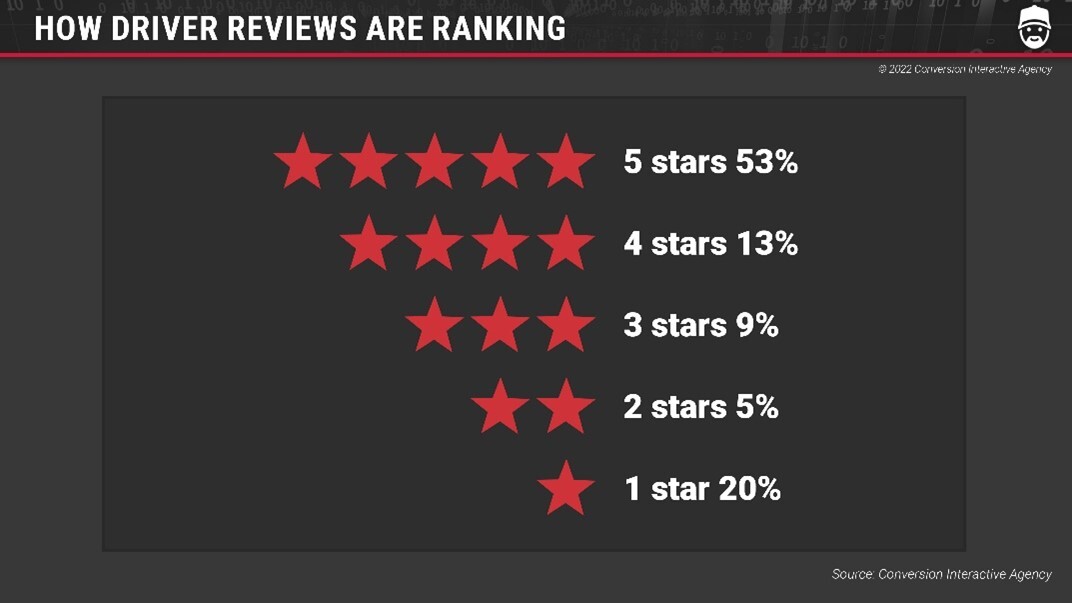 Drivers have found that some recruiters make a job seem more attractive upfront to incentivize them to make the move only to later find out the pay or home time are not what the recruiter described. This will never benefit your company, this will only lead to them finding a new carrier and warning others against joining your fleet, so it is crucial to be upfront and honest about the role.
2. MANAGE YOUR ONLINE REPUTATION
Have you ever purchased anything without reading the reviews, or dined somewhere without finding out what people thought of the menu? If you're like most modern Americans, you do not purchase anything without thoroughly investigating and finding out what people have to say about it. The same goes for truck drivers seeking a new job.
They are going to do their homework by asking other truck drivers what they know about your company and even research reviews about how your employees describe working at your company. Since we all know referrals are so important in this industry, we can't stress enough the importance of maintaining a positive brand reputation. It is also important to maintain positive brand awareness, so your company is the first one that comes to mind when drivers are looking to make a career move. Since Q3 of 2021, we saw a 22% increase in online driver reviews, so it is crucial to maintain a positive digital footprint for both active and passive job seekers. Here at Conversion Interactive Agency, we can help to maintain and grow the positive brand recognition your company needs to retain top talent.
3. DON'T FORGET THE PASSIVE JOB SEEKERS
Based on our data, we are finding that 65.4% of drivers are NOT currently looking for a job, but that doesn't mean they aren't leaving their current carriers for something better when an opportunity presents itself. Passive job seekers are why your company needs to be where the drivers are hanging out online. So when they are thinking about making changing carriers, or they had a bad haul that day, your company is top of mind and ready with an enticing job posting. When it comes to advertising, you need to make sure your ads are being shown to the right people with appealing content.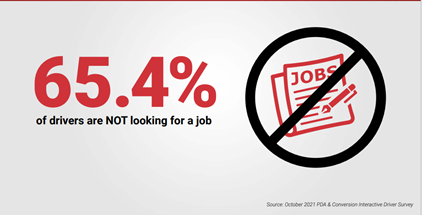 We have a team of digital and social media strategists who specialize in search engine marketing and content creation who are constantly adjusting their strategies to guarantee our client's ads are getting in front of the right people, in the right locations, at the right time, with exciting and original content. We also have innovative tools, such as Fleet Intel, to help make sure we are industry experts, and your offerings are staying competitive.
4. ADOPT AUTOMATED TECHNOLOGY FOR MAXIMUM IMPACT
Once a potential truck driver applies for one of your open positions or interacts with one of your ads, your recruiter's job does not stop there. Sometimes drivers need a second, third, or even fourth touch to finally decide to join your team. Now is the time to nurture your leads by continuously checking in with them by implementing remarketing and drip campaigns.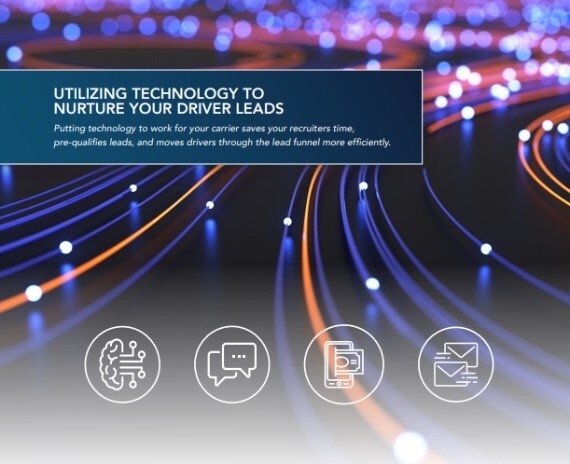 Our highly advanced technology, such as Lead Assist, integrates with your applicant tracking system and social media platforms so no lead goes untouched. You can automatically remarket to people who have interacted with your website, ads, job posting, or social media so when they are finally ready to make that move, your company is there to remind them of why they want to make the move to join your fleet!
5. RELATIONSHIPS ARE THE KEY TO SUCCESS
This brings us to the last and potentially most important driver recruiting tip, to develop and maintain relationships with potential drivers. By constantly providing communication and nurturing your relationship, drivers will feel more inclined to trust you and rely on your advice for their career moves. When that driver is asked about their recruitment journey, they will boast about the process, which will add to your positive brand reputation and potential for referrals. One of the previously mentioned drivers from the panel at the 2021 Recruitment and Retention Conference, told us how he maintained contact with his recruiter even after he joined the team, later he even became his mentor and confidant who has continued to guide him throughout his career.
In these unprecedented times, it is vital to have a strong recruiting strategy to keep your fleets full and trucks on the move! Remember to always be open and honest about the role you are recruiting for, continue to grow your positive company reputation, always be advertising because you never know when and where you will need a driver, keep reaching out and nurturing your leads, and build relationships with your potential drivers because you want to be top of mind when drivers are looking to make the leap. This can seem daunting, but Conversion is here to help you exceed your recruiting goals, all you have to do is ask!