Driver Recruiting and Retention Agencies Release 2022 Annual Report

By: Conversion Interactive Agency
Posted: Feb 7, 2023
Categories: Data, White Paper
Conversion Interactive Agency and PDA, two industry leaders in the driver recruitment and retention space, recently released their 2022 Driver Recruiting & Retention Annual Report. The agencies collected and analyzed data throughout the year to create this invaluable resource offering cutting-edge trends and insights to bolster carriers' efforts to successfully recruit smarter and retain better in 2023.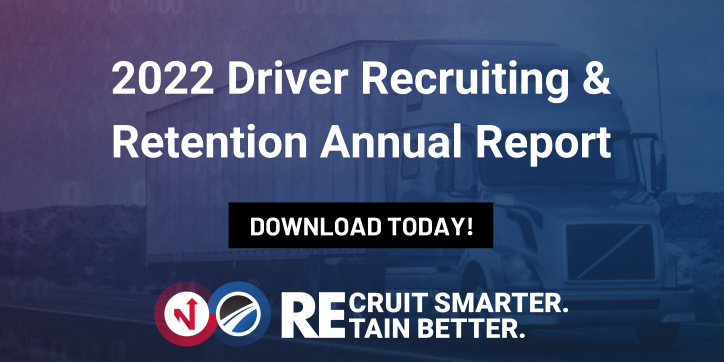 "2022 posed a new set of obstacles in driver recruitment and retention. Fleets of all sizes faced the challenge of recruiting and retaining drivers in an ever-changing post-COVID climate," said Kelley Walkup, CEO and President of Conversion Interactive Agency. "With delays on new equipment delivery, intense competition for available driver positions, and difficulty keeping them on board within the first 180 days, carriers faced a variety of challenges in recruiting and retention for drivers.
Lead nurturing technology made a significant impact on carriers in 2022. With roughly 78.5% of drivers stating they prefer to submit a short form over a full application to start the recruiting process, carriers leaned on technology to support recruiters and their goal of getting to the full application. AI-driven lead nurturing technology can seamlessly convert short forms into completed applications in 48 hours or sooner.
"Tools and technology are constantly advancing," said Walkup. "Carriers can recruit smarter by investing in technology like Lead Assist's lead nurturing tool to get full applications faster and streamline recruiting momentum in 2023. On average, we're seeing carriers convert 22% more short forms to full applications with this technology."
In 2022, according to the Annual Report, fleets that leveraged video content to attract drivers saw remarkable growth in their lead generation. Compared to the previous year, driver leads increased by 165% on Facebook stories and rose a dramatic 324% for Instagram stories. Additionally, vertical video ad formats were the fastest-growing lead generator for driver leads in 2022. As major social media platforms favor this type of visual format more highly than ever before – it's clear that carriers should double down on embracing vertical video content in their 2023 strategies.
"It is of the utmost importance that carriers leverage online video to ensure they stay ahead of the curve in 2023, as drivers strongly prefer this method for learning about potential employers," added Walkup. "For carriers to optimize their recruitment strategies, it is essential that the content they're curating aligns with what drivers are actively seeking out on the internet."
According to the Annual Report, when it comes to driver issues, equipment and compensation remained the top concern for drivers in 2022. Equipment specifically is a source of frustration for drivers which can significantly influence their ability to log miles - in turn affecting their compensation. In addition, equipment assignment issues were up from last year. Carriers should be mindful of what their equipment looks like before assigning it to a driver, as the data says this directly affects retention.
"Staying up-to-date with the latest equipment issues within the fleet will be paramount for driver retention in 2023," said Scott Dismuke, VP of Operations at PDA. "Issues concerning both compensation and equipment can take a toll on drivers' well-being, and It is vital carriers do their best to keep drivers rolling and logging miles to keep this week's retention issue from becoming next week's compensation issue."
The 2022 data shows that in relation to compensation, miles-related compensation issues, coming in at 48.7%, were higher than issues related to pay rate. PDA began to see a shift in driver feedback as the freight market started to soften, and that trend continued into the fourth quarter with compensation issues taking over as the top driver complaint for the first time since PDA began collecting data five years ago.
Dismuke emphasized the importance of understanding context when it comes to complaints about compensation. "Rather than jumping straight into raising wages, carriers need to look deeper and assess if pay rate is actually the issue," he stated. "Our data indicates there can be many factors impacting dissatisfaction with wages - so analyzing each situation thoroughly is key for success."
Proactive communication with drivers will be key to better retention in 2023 according to the PDA data provided in the Annual Report. The data shows 54.9% of operations issues stemmed from a lack of communication. Over half of the drivers who reported this grievance cited "no response" or "slow response" from management as their biggest complaint.
"In 2022, driver communication issues led to higher turnover rates due to drivers feeling disrespected or not seeing a response from their manager," Dismuke added. "With the freight market slowing down, staying ahead of any potential frustrations by engaging in proactive communication is paramount – keeping drivers informed will let them know they're respected and ensure better job retention as we move through these uncertain times."
2023 is sure to be a year of obstacles when it comes to driver recruitment and retention, yet Walkup and Dismuke remain confident that with optimized strategies harnessing the best in cutting-edge technology, fleets can face these challenges head-on while finding success in recruiting smarter and retaining better.
To access the full report, click here.